Brighton poised for historic promotion to the Premier League
|
Talking of the Championship this season, the focus has rightly been on the two fallen giants of English football: Newcastle United and Aston Villa. While Newcastle have gone about their business in a professional manner, which is the least expected from a Rafael Benitez side, Villa have blown hot and cold all season.
Amid all that, Chris Hughton's Brighton & Hove Albion have quietly stolen Newcastle's thunder, while Villa continue to make more noises off the pitch than on it.
Brighton top the Championship standings well into the second half of the season. In 27 games, the Seagulls have accrued 60 points, two more than second-placed Newcastle.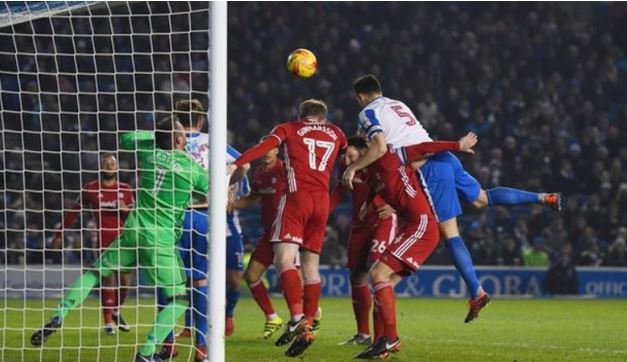 According to historical data, Brighton are well on their way to automatic promotion, which, after the hurt of 2015/16, is the least Hughton and his charges deserve. On average, in the last ten seasons, 86 points have been enough for automatic promotion, and the Seagulls' 2.22 points per game should take them well past that threshold.
They have the Championship's meanest defence, which is complemented well by their attack. Glen Murray and Anthony Knockaert have combined to score 25 of Brighton's 43 goals thus far.
Barring any major slip-ups, Brighton are well on their way to set foot on the Promised Land of Premier League football. Hughton has unfinished business in the top flight, having been sacked by both Newcastle and Norwich in the past. The Championship's third longest-serving current manager is nailed on to enjoy Premier League riches next season.
Other promotion contenders
Brighton and Newcastle aside, the likes of Reading and Leeds United are growing into contenders for the two automatic promotion places. It is unlikely that the top two will be unseated, hence Jaap Stam and Garry Monk have to be content with playoffs qualification.
Stam's Reading are third, while Monk's Leeds have recovered well from early season troubles to sit fourth. New Zealander Chris Wood is the Whites' top scorer with 17 goals; his goals have been priceless for Leeds so far and will continue to be so if the Elland Road outfit harbour ambitions of returning to the Premier League.
Steve McClaren's Derby County are also pushing for the lottery of the playoffs, so are Huddersfield Town and Sheffield Wednesday.
The magic of the Championship lies in its unpredictability, and this season has been proof of that. Brighton and Newcastle are nailed on for automatic promotion, while Leeds finally have themselves in a position to fight for Premier League football after years of self-implosion.
With barely a third of the season left, it remains to be seen who can catch the Premier League's gravy train next season, but Brighton, Newcastle, and one of Leeds and Reading are most likely to level up come the season's end.