Erling Haaland: New King for a Vacant Throne?
|
Two generational talents are ending their careers with a whim rather than a bang. One is left to wonder if Messi and CR7 are even generational, or even temporal, but that's a question for more seasoned football fans, who saw Ronaldo Nazário, Laudrup, Maradona, Van Basten. And then there's the question of how much the game changed in the recent decades. There aren't really players like Future or Ronaldinho anymore, the insane dribblers that marveled, although sometimes with low definition, enough to make stadiums make standing ovations.
Haaland, on the other hand, seems like one of these old players: a reminder of Batistuta, the efficiency of Gerd Muller, the untampered stone-cold charisma of someone who knows exactly what he's worth, without letting his emotions and self-love mess with his duty to the game and, currently, to Borussia Dortmund, where he is on an absolute clutch roll. Just because of him over/under bets very much end in 'overs' as he's always up for some spectacular actions.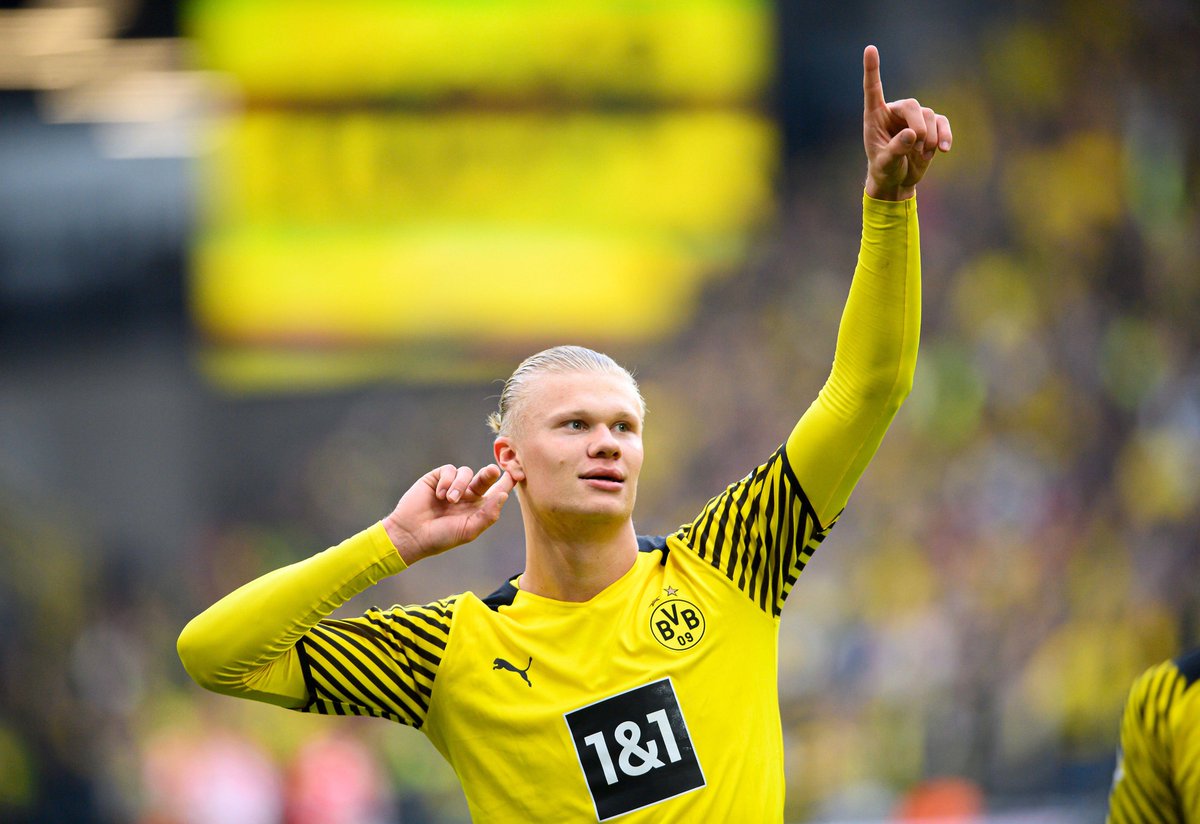 The question, albeit coming soon, is well applied: will he be considered the greatest of his generation, or will Mbappe have a say? All things point to Haaland so far, and his impossible ascent to fame is just a marker that asserts that there is, at the very least, a possibility that the throne will be his.
The Numbers:
The first time most people heard of Haaland, he was at Molde. But it was the triple hattrick in a game for the Sub-20 Norwegian squad that made the highlights all around the world. 9 goals in one game. A Pelé type of move that not even Ronaldo or Messi ever achieved.
He has 27 goals in 25 European matches and 107 goals in 146 appearances overall.  He has the most absolutely mind-boggling numbers this year, with 16 goals in 14 games. 
And to top it all off, he is only 21 years old. 
Looking at the numbers, it seems only two things can stop Erling to try and reach Cristiano's record: injuries, or his ego.
The Next Club for the Blonde Tank
There's a little bit of fan fiction around Real Madrid's fans that they will be able to join Mbappe and Haaland in the front, and create a type of super attacking front not seen since the apex of BBC. If there's a reason to doubt this, is the ego of both Mbappe and Haaland. 
Aiming to be the very best and shape the decade, it is likely they won't want to play in the same team, as it would prove to be a conflict towards their goals. Since Haaland already said he will play in Spain the next year, the only other sensible option is the Culés, Barcelona.
The problem with this situation is that Barcelona is somewhat of a financial mess, to be polite, and a lot of adjustments would need to be made to incorporate Haaland, and his massive salary, and still comply with FIFA and La Liga's rules.
Then, there is how Barcelona stands in terms of sporting capacity. Can they really provide a solid backbone for Haaland to believe he can compete for the big titles and improve, or maintain, his scoring streak?
Or is Real Madrid a safer choice, even with the predictable arrival of Mbappe? There's no doubt Mino Raiola, his agent, will milk whichever team wants him to the bone to benefit the player and, of course, himself in the process, but the Haaland novel is prone to be the biggest one of the next Summer.
Hoping for the Best
Haaland is a joy to watch. But so was Adriano, the Emperor. The downfall of players is a reality that is too often seen; after Pato, we must not believe in stars aligning. And this particular star, Haaland, needs his feet on the ground and his head on the game; if he does both, the throne is there for the taking.